Today I want to revisit Hugo's color wheel quilt as part of Love Nest Quilt Contest going on at
Gen X Quilters.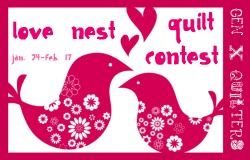 I found this quilt pattern in Joelle Hoverson's wonderful book,
Last Minute Patchwork and Quilted Gifts
. I fell in love with this quilt and the challenge it presented to me. Trying to take my stash and make a color wheel from it. I toyed with the fabrics on my design wall for weeks.
adding and subtracting fabrics. I swapped fabric for a few of the Flea Market Fancy prints...and my friend Robin donated a few key prints and the wonderful IKEA print used as the backing.
Finally finishing it this past spring...about the same time Hugo moved into his big boy twin bed. So in my mind this quilt was always for his bed. The book's pattern is for a 56 inch square quilt..but I added an extra 10 inches to the top and bottom to make it work on a twin size bed.
The back...I love this IKEA fabric...I wish I had more. I used every inch of this fabric for the back.
And the binding...which looks yummy here and was fun to make.
I love looking at this quilt...and often think i will make another. Here is my sweet boy snuggled under his quilt: